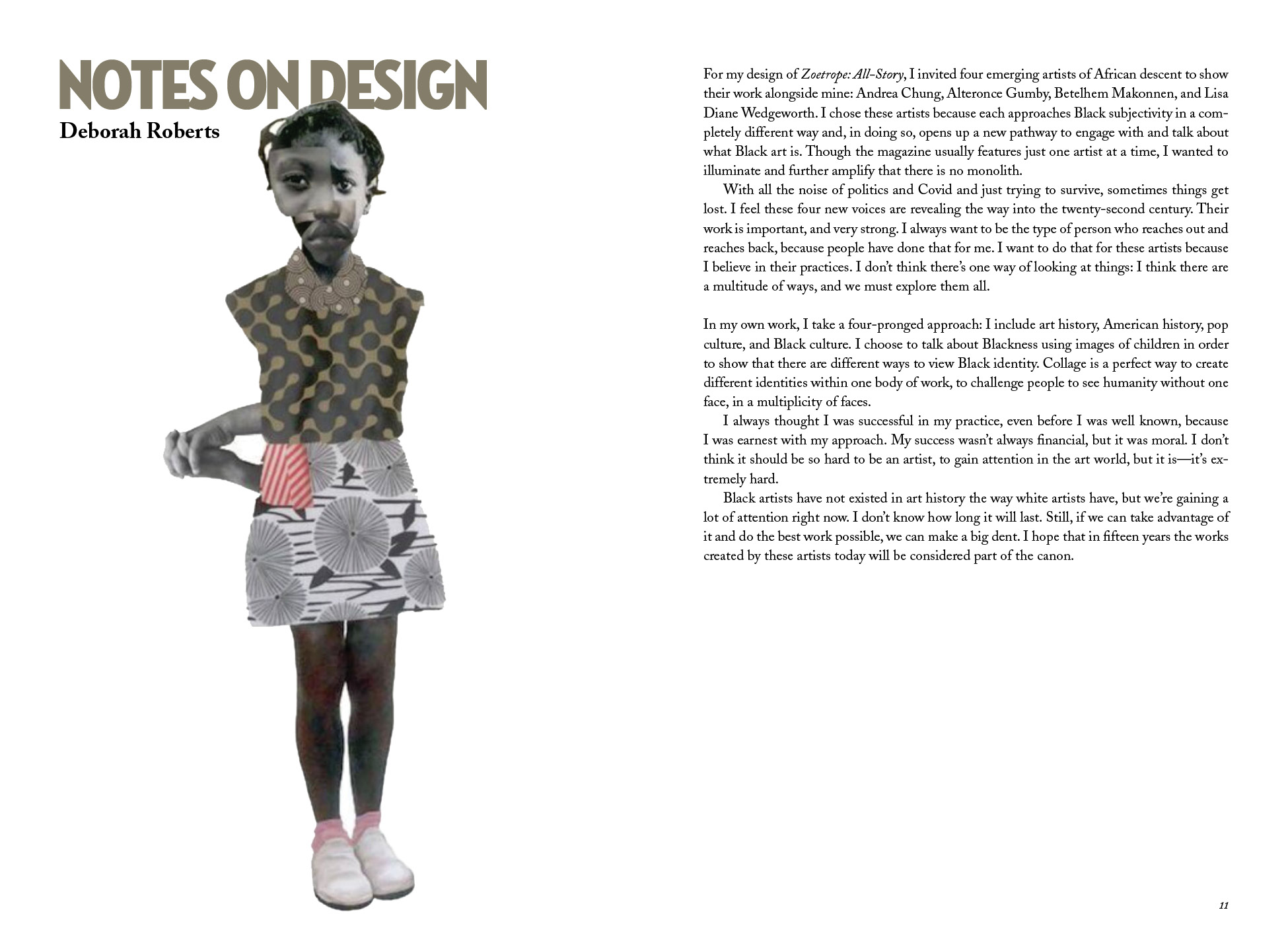 For my design of Zoetrope: All-Story, I invited four emerging artists of African descent to show their work alongside mine: Andrea Chung, Alteronce Gumby, Betelhem Makonnen, and Lisa Diane Wedgeworth. I chose these artists because each approaches Black subjectivity in a completely different way and, in doing so, opens up a new pathway to engage with and talk about what Black art is. Though the magazine usually features just one artist at a time, I wanted to illuminate and further amplify that there is no monolith.
With all the noise of politics and Covid and just trying to survive, sometimes things get lost. I feel these four new voices are revealing the way into the twenty-second century. Their work is important, and very strong. I always want to be the type of person who reaches out and reaches back, because people have done that for me. I want to do that for these artists because I believe in their practices. I don't think there's one way of looking at things: I think there are a multitude of ways, and we must explore them all.

In my own work, I take a four-pronged approach: I include art history, American history, pop culture, and Black culture. I choose to talk about Blackness using images of children in order to show that there are different ways to view Black identity. Collage is a perfect way to create different identities within one body of work, to challenge people to see humanity without one face, in a multiplicity of faces.
I always thought I was successful in my practice, even before I was well known, because I was earnest with my approach. My success wasn't always financial, but it was moral. I don't think it should be so hard to be an artist, to gain attention in the art world, but it is—it's extremely hard.
Black artists have not existed in art history the way white artists have, but we're gaining a lot of attention right now. I don't know how long it will last. Still, if we can take advantage of it and do the best work possible, we can make a big dent. I hope that in fifteen years the works created by these artists today will be considered part of the canon.