<!–– Set border to 0px if image is dark, 1px if image has a white background ––>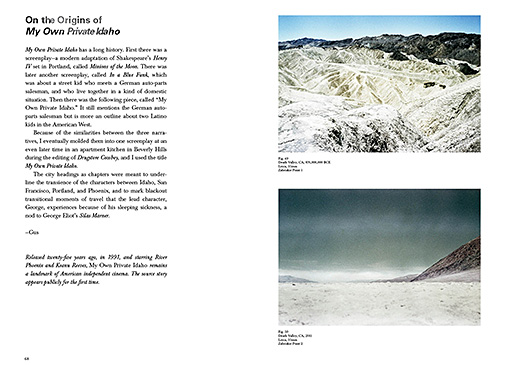 My Own Private Idaho has a long history. First there was a screenplay—a modern adaptation of Shakespeare's Henry IV set in Portland, called Minions of the Moon. There was later another screenplay, called In a Blue Funk, which was about a street kid who meets a German auto–parts salesman, and who live together in a kind of domestic situation. Then there was the following piece, called "My Own Private Idaho." It still mentions the German auto–parts salesman but is more an outline about two Latino kids in the American West.
Because of the similarities between the three narratives, I eventually molded them into one screenplay at an even later time in an apartment kitchen in Beverly Hills during the editing of Drugstore Cowboy, and I used the title My Own Private Idaho.
The city headings as chapters were meant to underline the transience of the characters between Idaho, San Francisco, Portland, and Phoenix, and to mark blackout transitional moments of travel that the lead character, George, experiences because of his sleeping sickness, a nod to George Eliot's Silas Marner.

To read "My Own Private Idaho" and other stories from the Spring 2016 issue, please purchase a copy from our
online store
.