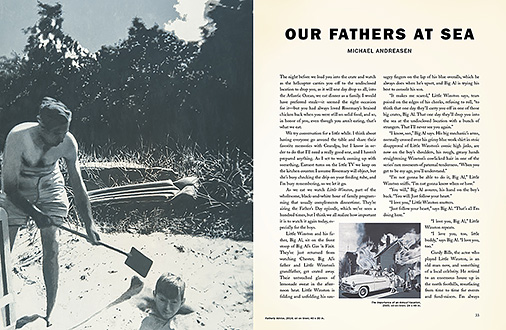 The night before we load you into the crate and watch as the helicopter carries you off to the undisclosed location to drop you, as it will one day drop us all, into the Atlantic Ocean, we eat dinner as a family. I would have preferred steak—it seemed the right occasion for it—but you had always loved Rosemary's braised chicken back when you were still on solid food, and so, in honor of you, even though you aren't eating, that's what we eat.
We try conversation for a little while. I think about having everyone go around the table and share their favorite memories with Grandpa, but I know in order to do that I'll need a really good one, and I haven't prepared anything. As I set to work coming up with something, Earnest turns on the little TV we keep on the kitchen counter. I assume Rosemary will object, but she's busy checking the drip on your feeding tube, and I'm busy remembering, so we let it go.
As we eat we watch Little Winston, part of the wholesome, black-and-white hour of family programming that usually complements dinnertime. They're airing the Father's Day episode, which we've seen a hundred times, but I think we all realize how important it is to watch it again today, especially for the boys.
Little Winston and his father, Big Al, sit on the front stoop of Big Al's Gas 'n Fixit. They've just returned from watching Chester, Big Al's father and Little Winston's grandfather, get crated away. Their untouched glasses of lemonade sweat in the afternoon heat. Little Winston is folding and unfolding his sausagey fingers on the lap of his blue overalls, which he always does when he's upset, and Big Al is trying his best to console his son.
"It makes me scared," Little Winston says, tears poised on the edges of his cheeks, refusing to roll, "to think that one day they'll carry you off in one of those big crates, Big Al. That one day they'll drop you into the sea at the undisclosed location with a bunch of strangers. That I'll never see you again."
"I know, son," Big Al says. His big mechanic's arms, normally crossed over his grimy blue work shirt in stoic disapproval of Little Winston's comic high jinks, are now on the boy's shoulders, his rough, greasy hands straightening Winston's cowlicked hair in one of the series' rare moments of paternal tenderness. "When you get to be my age, you'll understand."
"I'm not gonna be able to do it, Big Al," Little Winston sniffs. "I'm not gonna know when or how."
"You will," Big Al assures, his hand on the boy's back. "You will. Just follow your heart."
"I love you," Little Winston mutters.
"Just follow your heart," says Big Al. "That's all I'm doing here."
"I love you, Big Al," Little Winston repeats.
"I love you, too, little buddy," says Big Al. "I love you, too."


To read the rest of this story, and others from the Fall 2015 issue, please purchase a copy from our
online store
.