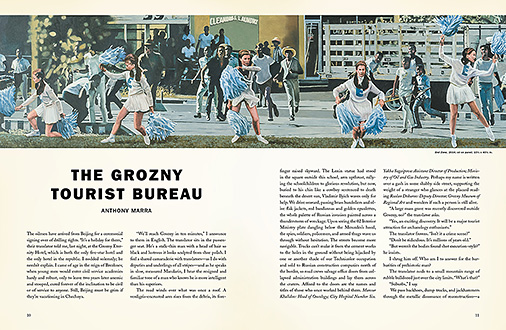 The oilmen have arrived from Beijing for a ceremonial signing over of drilling rights. "It's a holiday for them," their translator told me, last night, at the Grozny Eternity Hotel, which is both the only five-star hotel and the only hotel in the republic. I nodded solemnly; he needn't explain. I came of age in the reign of Brezhnev, when young men would enter civil service academies hardy and robust, only to leave two years later anemic and stooped, cured forever of the inclination to be civil or of service to anyone. Still, Beijing must be grim if they're vacationing in Chechnya.
"We'll reach Grozny in ten minutes," I announce to them in English. The translator sits in the passenger seat. He's a stalk-thin man with a head of hair so black and lustrous it looks sculpted from shoe polish. I feel a shared camaraderie with translators—as I do with deputies and underlings of all stripes—and as he speaks in slow, measured Mandarin, I hear the resigned and familiar tone of a man who knows he is more intelligent than his superiors.
The road winds over what was once a roof. A verdigris-encrusted arm rises from the debris, its forefinger raised skyward. The Lenin statue had stood in the square outside this school, arm upthrust, rallying the schoolchildren to glorious revolution, but now, buried to his chin like a cowboy sentenced to death beneath the desert sun, Vladimir Ilyich waves only for help. We drive onward, passing brass bandoliers and olive flak jackets, red bandannas and golden epaulettes, the whole palette of Russian invasion painted across a thunderstorm of wreckage. Upon seeing the 02 Interior Ministry plate dangling below the Mercedes's hood, the spies, soldiers, policemen, and armed thugs wave us through without hesitation. The streets become more navigable. Trucks can't make it from the cement works to the holes in the ground without being hijacked by one or another shade of our Technicolor occupation and sold to Russian construction companies north of the border, so road crews salvage office doors from collapsed administration buildings and lay them across the craters. Affixed to the doors are the names and titles of those who once worked behind them. Mansur Khalidov: Head of Oncology; City Hospital Number Six. Yakha Sagaipova: Assistant Director of Production; Ministry of Oil and Gas Industry. Perhaps my name is written over a gash in some shabby side street, supporting the weight of a stranger who glances at the placard reading Ruslan Dokurov: Deputy Director; Grozny Museum of Regional Art and wonders if such a person is still alive.
"A large mass grave was recently discovered outside Grozny, no?" the translator asks.
"Yes, an exciting discovery. It will be a major tourist attraction for archaeology enthusiasts."
The translator frowns. "Isn't it a crime scene?"
"Don't be ridiculous. It's millions of years old."
"But weren't the bodies found shot execution-style?" he insists.
I shrug him off. Who am I to answer for the barbarities of prehistoric man?
The translator nods to a small mountain range of rubble bulldozed just over the city limits. "What's that?"
"Suburbs," I say.


To read the rest of this story, and others from the Fall 2015 issue, please purchase a copy from our
online store
.